Flight Lab – Assignment, Lab Report Template, and Teacher Example
Your Flight Lab is due on Wednesday, Nov. 19.  
You are to have a complete lab report with graphed results and personal reflections about your results.
Click the links below to see the assignment and samples of this lab.
14.11.13 Airplane Flight Lab – with notes (This is Mr. Ewert's assignment.  Read this one over to see a good example)
14.11.13 Airplane Flight Lab – Typed lab report outline (This is a copy of a typed lab report that you can download and then fill in with your own results and reflections)
14.11.10 Flight Lab (This is the original assignment that was handed out in class)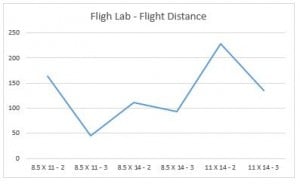 Click the link below for the follow up "Design the Best Circle Plane" assignment.